Vote
(Total
0
Votes )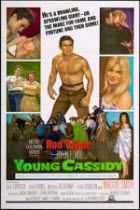 Movies:
Young Cassidy
Director:
Jack Cardiff, John Ford (uncredited)
Cast:
Rod Taylor, Julie Christie, Maggie Smith
Production Co:
Metro-Goldwyn-Mayer (MGM), Sextant Films
Genres:
Biography, Drama
Runtime:
105 min
Country:
UK
Release Date:
1965
Biographical drama based on the early life of playwright Sean O'Casey, depicting his rise from the 1910 Dublin slums to the celebrated openings of his early plays. Johnny Cassidy, an impoverished idealist whose ambitions are restricted by the demands of looking after his family, journeys through the social injustices of Dublin life - involving himself with the rowdy tramway-men strike, dawdling with prostitute Daisy Battles, seeking a better life. He falls in love with bookshop assistant Nora who encourages him toward a life of writing. Finding success at the Abbey Theatre, his unorthodox views estrange him from family, friends and his own past...